introduction
The Kaga/Hakusan area in the Hokuriku region in south-western Ishikawa Prefecture is blessed with grand nature and natural hot springs. The Kaga Onsen-kyo hot spring resort, which includes Yamashiro, Yamanaka, Katayamazu, and Awazu, is surrounded by picturesque views of the coast to the majestic Mt. Haku (Hakusan). Kutaniyaki, a Japanese ceramic ware that flourished in the beginning of the Edo era (1603-1867) and is still prominent today, has its origins at Yamanaka Onsen. Each Kaga's tourist site is easily accessible from JR Kaga Onsen Station which is about 1 hour 45 minutes from Kyoto or 2 hour 30 minutes from Osaka by limited express. Most Japanese hotels in Kaga Onsen offer free transfer from JR Kaga Onsen Station. Kutaniyaki glazes incorporate five vibrant colors - greens, yellows, purples, reds and blues - in bold designs that define its unique characteristics. The special techniques used to produce Kutaniyaki ceramic ware and Yamanaka lacquerware were developed in the same era and both are well-known for their historical value. This area is also famous for foods from the mountains and the sea and attracts many people.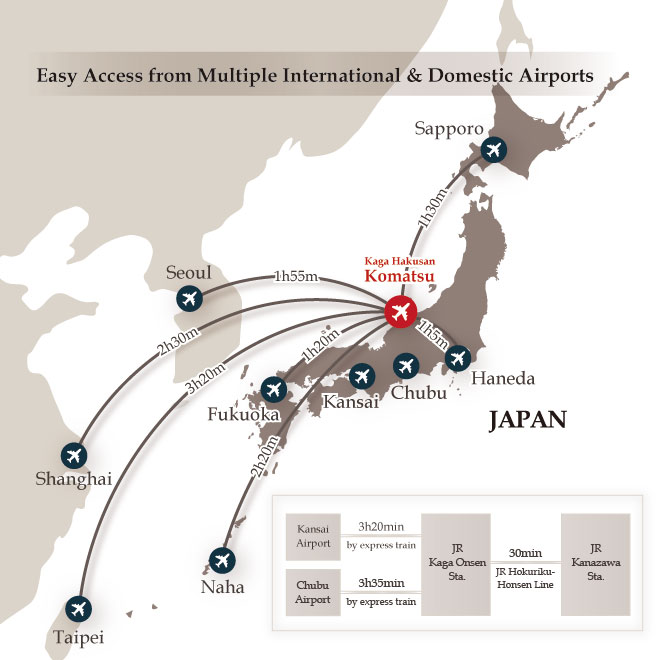 Kaga's Fine Four Onsen,
Ishikawa Prefecture

Arts, Craft and Crabs in Kaga / Hakusan City /
Komatsu City

Lady Kaga Awaits You
In addition to the splendid hot springs and local history, Yamashiro Onsen boasts the hospitality of "Lady Kaga," a group of women from Kaga (present-day Ishikawa Prefecture). The Ladies of Kaga can be seen awaiting your visit at many of the hotels.